Winter Site Rebrand
We've just rebranded our site to reflect the cold snap we've been having recently.
Have a look now at www.ardnet.co.uk
---
Beat The VAT Hike with Ardnet
From 1st January 2011 the government will be raising the VAT rate to 20%. Recently we've talked to a number of customers who aren't VAT registered themselves and can't claim back the additional cost of the tax. For an entry level website the raise in duty could mean that customers are paying an additional £100 – £200.
As you know Ardnet is a small company and as such we have found now we have the option to de-register from the VAT system so now from 1st December 2010 all prices will be VAT free.
---
Content Management Sites
Content management allows customers to make regular changes to their website including adding new pages and uploading photographs, keeping a news blog and even adding events information or a photo gallery.
We are now offering bespoke designed content management systems to allow you to modify your website inhouse with the minimum of fuss, this service is still backed up with our maintenance and support service guarantee.
For more information about transforming your current website to content management or using this to build a new site please email info@ardnet.co.uk
---
Perfect Christmas Present
Considering what to get the person who has everything? One of the biggest gifts every year is a camera. Even the simpliest digital cameras these days come with a huge range of features and functions. Most people never use their camera to the full potential.
Award winning photographer Colin Bailie is offering 1-2-1 courses in photography. The course takes place is the beautiful Mourne Mountains and Colin will teach you how to get the most from your new camera to create stunning photographs to cherish forever. A perfect gift voucher idea. Find out more at www.lessonsonphotography.co.uk
Also for the petrol heads out there why not have a go at driving a real racing car with Race School Ireland. Gift vouchers start from as little as £149 to drive a Formula Ford single seater race car around Kirkistown circuit. Full information at www.raceschoolireland.com.
---
New Sites This Month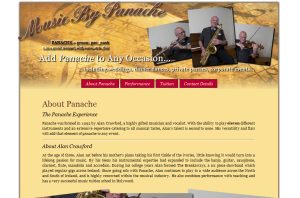 Music By Panache
Alan Crawford is a highly gifted musician and vocalist from Holywood, Co Down. Alan can play eleven different instruments and has an extensive repertoire catering for all music styles.
The website gives information on Alan's performances and tuition services.
Visit the site at : www.musicbypanache.co.uk
---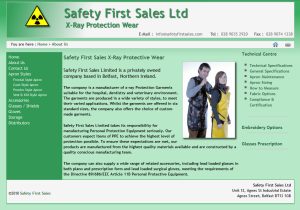 Safety First Sales
Safety First Sales have been a client of ours for many years, they manufacturer x-ray protective garments sold through a network of international distributors.
The website provides an extensive catalogue of the products made by Safety First Sales as well as information and facts on the products. An interactive map displays the location of the various distributors worldwide.
Visit the site at : www.safetyfirstsales.com
---
Lessons on Photography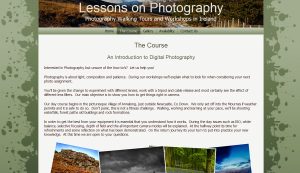 A new service from Colin Williams photography, 1-2-1 photography lessons make the perfect gift or why not hone your photography skills with this amazing tuition.
Colin conducts all his 1-2-1 lessons in the Mourne Mountains, allowing novice photographers to take amazing photographs worthy of hanging on any wall.
Visit the site at : www.lessonsonphotography.co.uk
---