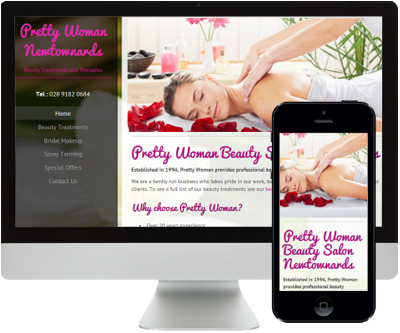 As we go into the autumn and winter everyone wants to hold onto some memories of the great summer weather (or not!), but while memories stay with us, our tans fade quickly.  In the past to keep that just back from holiday look has meant using sunbeds which not only age your skin can also be the cause of forms of cancer.
Pretty Woman beauty salon in Frances Street, Newtownards have the perfect solution with the professional range of Sienna X Spray tanning.  This technology is used in hit television shows Strictly come dancing and the Brit awards and we're sure is the secret most celebs use for that red carpet look.
As well as providing this extremely safe and quick tanning solution Pretty Woman also provide a wide range of beauty treatments and bridal makeup packages.  Their recently designed website includes lots of seasonally changing special offers to make sure to bookmark the site to find out what's on offer this month.
We've recently launched a brand new website for Pretty Woman which is fully mobile friendly meaning that not only will their content look perfect on mobile devices but it'll also attain a higher search engine ranking than a site that isn't responsive.
Visit the site today at http://www.prettywomannewtownards.co.uk/