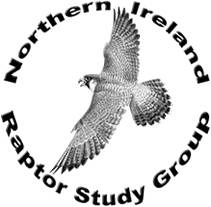 Formed over twenty years ago the Raptor Study Group is a network of volunteers who monitor and record the fortunes of Northern Ireland's birds of prey.  They collect information by visiting raptor breeding and wintering sites and record the status, distribution and breeding success of each species of raptor.
Working with local law enforcement organisations the NIRSG help protect these amazing birds from persecution and can also help industry including construction and wind generation companies make sure that developments will not impact birds of prey.  As well as the great work that the study group do they also provide educational services including school visits to make people aware of the various species in Northern Ireland.
We were delighted to help build a wonderfully informative website for the group which includes species guides to help members of the public identify birds as well as methods to allow people to submit sightings of raptors and also information on what they can do if they suspect the creatures are being persecuted in their area.  The website includes loads of really cool interactive features including slideshows and galleries and all aspects of the website can be controlled in-house using our content management system.
For more information on birds of prey in Northern Ireland or to find out how you can get involved with raptor protection visit http://www.nirsg.com/