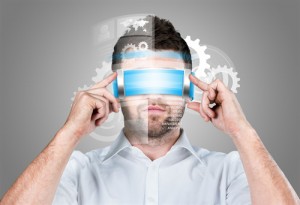 At this exciting start to a new year it's time to take a look into the future and see what products and technological advances will be trending in 2016.
Virtual Reality
Gaming is going to get a lot more real in 2016 with lots of Virtual Reality products set to be launched over the first six months of the year.  Expect to see the Oculus Rift headset in the spring, followed by other Virtual Reality products from HTC and Sony.
Virtual Reality has been around for years and smartphone based applications used in conjunction with cardboard cut-out headsets allow you to sample the virtual reality world, but this new crop of headsets have advanced sensors and imaging to provide the viewer with immersive experiences that make you feel like you're really there.
Be warned though, keep some sea-sickness tablets close by!
The Internet of Things
The Internet of things is all about connected devices that aren't necessarily computers, tablets or phones.  A new breed of connected products will includes fridges that can re-order milk, dishwashers that re-order detergent, lightbulbs you control with your phone and garage doors that open and shut by signals transmitted over the internet.
All great when they work, aren't they?
Much more streaming TV
Already very popular, expect to see even more free and subscription based streaming services launch, making it easier to watch your favourite television programmes or movies anywhere.  Watch out too for the new motoring vehicle (get it?) from Jeremy Clarkson and the ex-top gear crew on Amazon's Instant Video service.
Music without the wires
Expect to see many more examples of Bluetooth headphones, speakers and earphones on the market in 2016 including new products that don't even have a wire to connect both sides.
It's even rumoured that the new Apple iPhone will no longer have a headphone socket, making it much thinner but necessary to use Bluetooth earphones, though we think this is probably rubbish.
Wireless Charging
As well as wireless headphones we'll soon start to see products that charge wirelessly when placed on special pads.  Expect to see tech from Samsung and other mobile producers.  Furniture and car manufacturers are already starting to ship products that include the charging pads.
Better Drones on the Horizon
2015 was probably the year of the drone, with the popular, remote control robots flying everywhere and getting into all sorts of mischief.  New drones expected to ship in 2016 will have smarter technology and better cameras, allowing them to follow you and take much sharper footage.