16th March 2012
We've had a long term relationship with Ards Peninsula based ra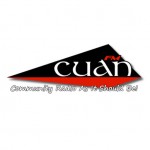 dio station Cuan FM, helping them provide their broadcasts to an international audience through web streaming.
Now we are pleased to announce that web streaming is available on smartphones and tablets so you can listen to Cuan FM when you are out and about.
To find out how we can help your community project, club or society please contact us.
For the feeds click below :
Cuan are now streaming to mobile devices..
If you are using a PC then visit the website now at to hear the live radio web stream www.cuanfm.co.uk