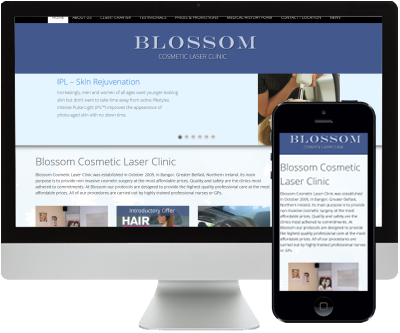 We've been providing web services to Blossom for many years now, they use their website to promote the various cosmetic services they provide as well as inform patients about procedures and provide a portal for clients to submit treatment forms.
Blossom use our Content Management System so a redesign of their site means that we don't have to start from scratch.  All the content is already on their website so all we had to do was re-design the user experience, the front end of the site, meaning that a completely new look can be attained for a fraction of the cost of developing a brand new website.
Technology is continually innovating and changing and it's important to keep websites up to date.  For example, your website should now be responsive, that means that it will display content perfectly on all sorts of different devices.
We were pleased to incorporate some new techniques for Blossom including making the menu always visible no matter how far the user has scrolled on a page, this will help the company retain visitors on their website.
We are delighted to work with Blossom and hope the relationship continues for many years to come.
Visit the new website today at http://www.blossomcosmeticlaserclinic.com/