Comber Earlies Fringe Festival is a week long programme of events, Fri 17th – Sun 26th June, being hosted by Comber Regeneration Community Partnership, and supported by Ards and North Down Council, local businesses and voluntary groups in Comber.
As members of Comber Regeneration Community Partnership put the finishing touches to the programme, their vision was to provide opportunities for more community involvement and develop a sense of identity through the Comber Earlies Potato, which achieved EU PGI (Protected Geographic Indication) status.
CRCP promise something a 'peeling' for everyone at their Fringe Festival' starting on Friday 17th June with the CHAMP-ion School Olympics being held at Comber Primary School.  Pupils from a number of local primary schools will be competing for Gold Medals!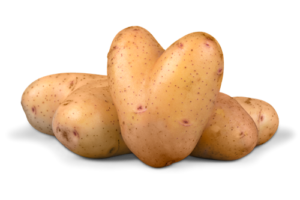 On Satuday 18th June, the winner from the Festival Queen nominations will be announced by the judges at the Supper dance being held in Comber Rifle Club.  This year the Festival Queen will be chosen from women who have been specially nominated as an 'Unsung Heroine' that holds an organisation or the Comber Community together in a special way; a woman who always does way above and beyond what would be expected of them. Tickets for both the supper dance and an afternoon Vintage Tea Dance on Tues 21st June are available in the Library, or by contacting Roy 07745 389 561
The wee man from Strabane is looking forward to a plate of Comber Earlies on Thurs 23rd June!  Hugo Duncan will be broadcasting live from Comber Square at the Fringe Festival. This is planned to be a fabulous family day out, with Festival food stalls, lots to taste, craft activities, face painting, competitions and lots more.
The Music Makers will combine their musical talents to provide an hour of toe tapping music on Mon 20th June, 2.00pm in the library. More toe tapping music can also be enjoyed at 'Music for the Potato Gathering 'in the Non subscribing church hall on Wed night.  Comber library will also be hosting 'Gathering Stories', tea and craic with the Libraries NI storyteller in Residence, Liz Weir on Wed 22 June at 2.00pm. For those who enjoy a few brain teasers, North Down House will be running a 'Spud Quiz' on Thurs night, 23rd June commencing at 9.30pm
Other highlights include the 'Living Legacy Roadshow' hosted by Comber Historical Society, a special day for all the family on Sat 18th, in Andrews Memorial hall. For those who enjoy a little grated cheese on their baked potato, can 'Meet the Cheesemaker' at Indie Fude's event on Fri 24 June. For all doggie lovers, a great family evening's fun and entertainment will be had at 'The patch, Ballyrainey Road on Tues 21st June.
After the Comber Earlies Food Festival, on Sat 25th June, Comber Silver band will provide special music at a short service in the square on Sunday 26th June with Comber Churches Together to conclude all the festival activities.
Further details of events in the Fringe Festival are on www.comberregeneration.com or available in Comber library, and posted around the town.