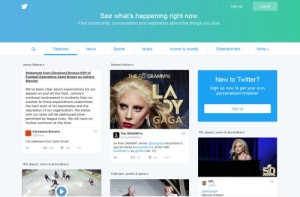 Micro blogging site Twitter has introduced a change to its site homepage to show real-time tweets and updates from news outlets and celebrities as well as allowing visitors to search tweets.
"The Old homepage was targeted at getting people to sign up for an account" David Wilkinson, digital media analyst with Soho Strategy said.
The newly designed dynamic homepage will only be available to visitors who aren't signed into their twitter accounts already so if you regularly use the social media website you mightn't notice a difference.
Twitter has around half a billion visitors every month but only 320 million registered members.  The site re-design is thought to be more attractive to those wishing just to look around without actually signing up for an account.
Twitter has struggled with competition from rivals including Facebook and have found it very difficult to turn their micro blogging idea into a way to make money.  They said ""Starting today, anyone can explore and discover different topics and stories as they occur, including some that are tailored just for you based on your location,".